Back to all posts
Posted on
Canadian Mental Health Week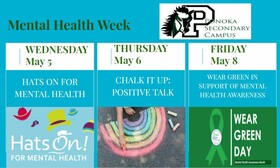 Mental Health week gives us an opportunity to raise awareness for ourselves, our students and our community.
Wednesday- HATS ON FOR MENTAL HEALTH- This is provincial wide and we encourage staff and students to wear a hat on this day. Ie) Cowboy hat, Oilers hat, Sombrero etc.
Thursday- CHALK IT UP WITH POSITIVE TALK- We will provide sidewalk chalk for students who wish to participate. We will write encouraging messages on the front sidewalks, north sidewalk and front entrance.
Friday- Wear GREEN and raise awareness for mental health. Green is the international symbol for mental health awareness. We wear green to show colleagues, students and friends that we care about their mental health. It can also be worn in memory of someone they may have lost.