Back to all posts
Posted on
Back To School 2021/2022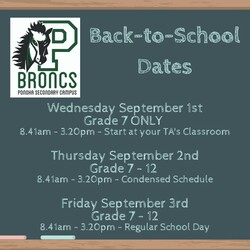 Sept 1 - Grade 7's First Day of School
Sept 2 - Grade 8 - 12's First Day of School AND Grade 7's will continue
First Day(s) of School in September 2021-2022
Our office will be open starting Monday August 30, 2021 from 8:00-4:00pm. We will not be readily available before this date.
Wednesday September 1, 2021 - 1st Day of School for Grade 7's ONLY!
On Wednesday September 1st school for grade 7 students will begin at 8:41am. This will be an orientation day for grade 7's. They will begin the day with their TA (Teacher Advisor) who will give them a tour, introduce them to the school and procedures and then in the afternoon they will run through a condensed school day ending at 3:24pm.
Thursday September 2, 2021 - School Begins for Everyone
On Thursday September 2nd our grade 8-12 will begin school and our grade 7's will continue. All students will begin their day in their teacher advisor and confirm schedules, receive lockers and go through procedures. Starting at 9.30am students will start a condensed school day ending at 3:20pm.
Friday September 3, 2021 - Regular School day for everyone at PSC